There is no secret that the AFL cares more about financial returns than a fair competition. Years ago they promised a fair (well, relatively fair) draw where the the top half of the previous season's ladder would play each other twice and the top teams would take on the less successful clubs only once.
"A good plan", I thought. Many others did too.
I think the plan lasted one season. Then money became the determinant for fixturing. We had to have blockbusters. We had to maximise the financial return. Consequently Collingwood had favourable draws year after year. Not surprisingly other teams had less favourable draws - year after year. But it's okay. Because we are pulling in more money - year after year. Fairness be damned.
So, it's been a puzzle to me that in all its wisdom the AFL hasn't leveraged the most historic of all battles - good versus evil. Surely, they can make a buck out of that.
As I plonk the fingers over the keyboard on this Saturday morning it occurs to me that, no doubt like you, no football on a Friday night is an anathema. We should not have to suffer* through a Friday in the AFL HomeNaway season without a game to enjoy. Truly, when a Glee marathon is a Friday night's ratings winner, the great unwashed is sending a message.
There is the opportunity. An untapped blockbuster theme. An audience crying out for entertainment. Easter Friday. Good versus Evil. The Saints versus the Melbourne Demons!
It has to happen. After-all, there's money in it.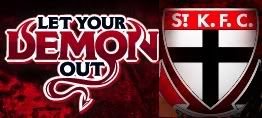 * My apologies to the devoted who may well be offended by the religious insensitivity of the above.